Description
Hello, Small Black Box
YG-Fill new ring light can save you 7 times the storage space of ordinary fill light.
The gift storage bag protects the body from dust, which is stylish and simple.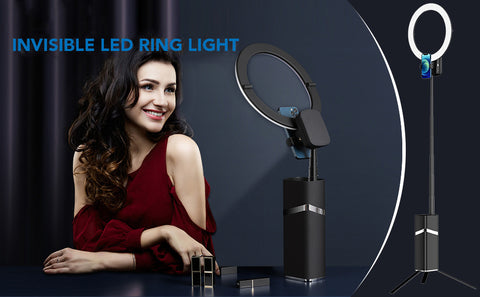 💡 【All in One Invisible Ring Light】
The ring light tripod is made of aluminum alloy construction for stabilizing the makeup ring light. Put it into the box anytime, anywhere. Selfie light adjustable height range up to 78.3 inches. Pretty stable 3-leg stage design and solid locking system keeps all your stuff safe, when you use them please put the three legs down.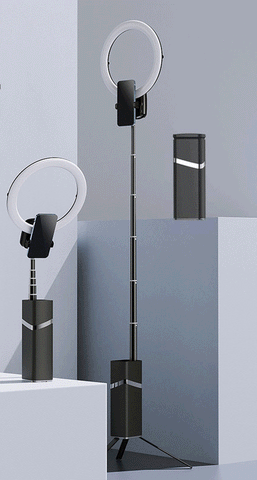 💡 【Multi-angle Adjustable Ring Light】
YG-Fill ringlight adopts high color rendering beads, super large adjusted color temperature from 4500-5500K, stepless brightness dimming from 0% to 100%. Special 11in LED design give off great light, three colors of lights, aperture can be adjusted from multiple angles, perfect for portraits, vlog, Livestream and selfie.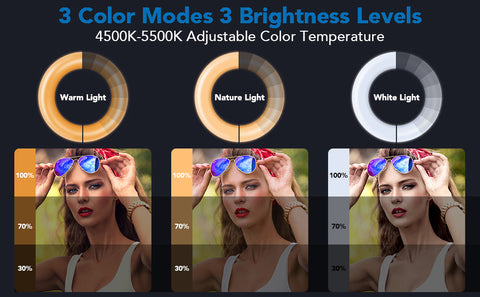 💡【2 Hot Shoe Ports & 4000mAH Battery】
If you need to shoot with more cellphones or cameras, this is your best choice; 2 hot shoe ports allow you to mount 2 phones or 1 phone& 1 small camera at the same time. Equipped with 4000mAH Battery, Don't worry about outdoor live broadcasting, also use power banks and other devices to charge.
💡【Selfie Controller & Convenient Phone Holder】
The phone holder fits smartphones of various sizes. The 360-degree mobile phone holder and the 90-degree ring light meet various shooting needs. A wireless remote shutter release makes snap-taking at one click of the button. The selfie controller is at the bottom of the box to prevent loss.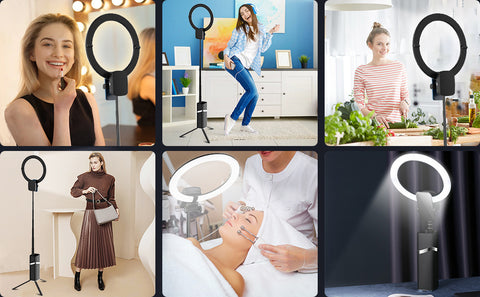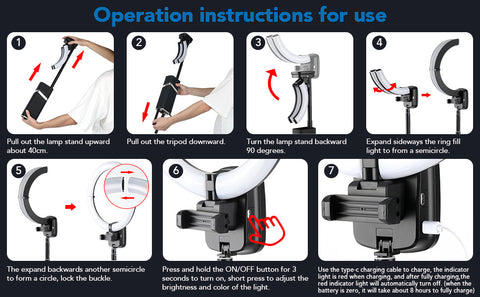 Material: PC + ABS + Zinc Alloy + Aluminum + TPU
Luminous light source: energy-saving LED
Color temperature: 4500K-5500K
Light color: yellow light / white light / warm white light
Lighting time: 2h-8h
Battery capacity: 3.7V, 4000 mA
Diameter of light ring: 260mm / 10.24inch
Storage length: 270*100*75mm / 10.63*3.94*2.95inch
Extended height: 1930mm / 6.33ft
Color: pink, Black
1 * Multifunctional invisible bracket lamp
1 * Remote control
1 * storage bag
1* USB cable
I'm a crafter and wanted to post some videos using an over head tripod th hold my phone. Well this one for the bill perfectly. It's strong enough to hold my Galaxy Note 20 ultra.
This product is great because it folds into itself to make it easy to transport and store.
The phone holder is very tight and will not have any issues with it moving.
I do videos of my everyday cooking and I was looking for a phone stand which can hold the phone over the top while I cook food. I haven't seen any other product like this and I was on the fence initially. But, this works out great for me. I have already shot a few videos and it was great.
Good product, exactly as described and extremely fast delivery. very happy