Description
Start to explore your new way of memorizing the amazing moment!
the ultra-light weighted smartphone gimbal stabilizer that folds to fit in your pocket,
with straightforward user operation made for everyone, and an all-functional App offered to unlock possibility.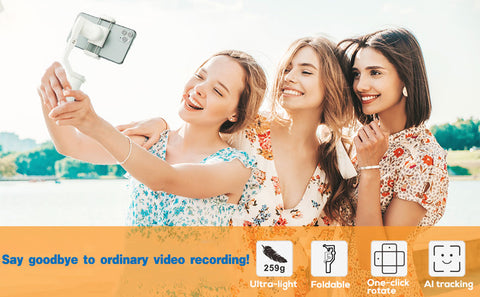 【One-Handed Manipulate】The latest Isteady X folded in a pocket-size can be wholly gripped by palm, weighs only 259g the as light as iPhone11pro max, not only saves your spaces well but reduces loan greatly when adventuring /trip/ picnic.
【One-Click to be a Filmmaker】The phone stabilizer is friendly to all beginners/ amateur, internal programs have done correct operations for you already, straightforward to get 15/30secs fantastic camera movements by simply pressing some buttons.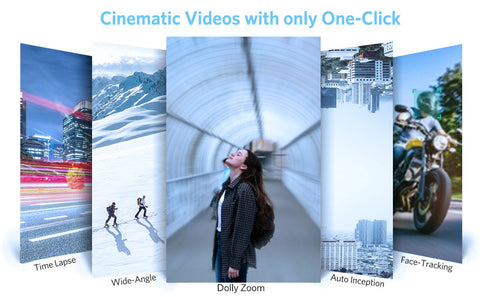 【One-tap Moment Mode】With built-in Moment Mode, the gimbal stabilizer can direct blockbusters automatically. Just keep in cool postures to enjoy Auto Inception mode, Dolly Zoom, Hitchcock,one-click to share it to Youtube, TikTok, Instagram.
【Upgraded Anti-Shake 3.0 Algorithm 】The upgraded brushless motor and iSteady 3.0 anti-shake algorithm effectively eliminate shaky footage and show you smooth moments, no matter you are walking or running or records child's bicycling skateboarding time.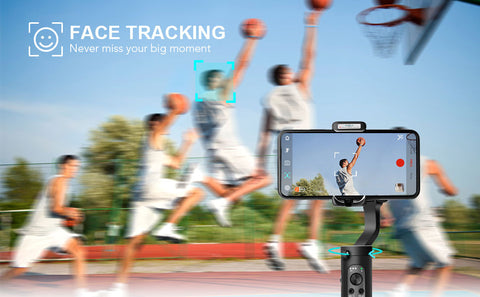 【8H Running Time】Equipped with 2000mAh battery, iSteady X phone gimbal has a long battery life and is managed to meet your whole day needs. Just enjoy the joy of video-recording and don't have to worry about being interrupted anymore.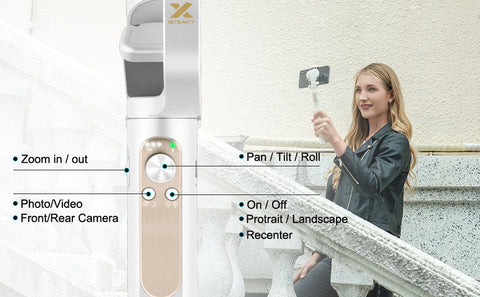 Tips:
1. The function of object/face tracking cannot work normally as you have to install your phone in the right direction showed on the clip.

2. Some type of phones especially in small size may encounter the problem like this, the motor may block some parts of your lens if your phone camera on the right side.

3. What's more, we do not recommend this for the holder of these following types of phones: Xiaomi 10, Xiaomi 10 PRO, Xiaomi CC9 PRO, as the problem of blocking the lens.
FAQ:
1. What am I gonna do after receiving the gimbal stabilizer?
(1) Get it charged first! It came out from the factory in 20% battery
(2) Meanwhile pls read the guide carefully
(3) Then download the APP "Hohem Pro App" by scanning the QR code on the backside of the package box, then complete the registration steps
(4) After fully charged pls mount and balance your phone(make sure all Axis unlocked)
(5) Turn on the gimbal and phone Bluetooth, paired them, then following the instructions to activate
Weight: 259g
Dimension (mm): 179 x 79 x 39 (Folded) 230 x 80 x 40 (Unfolded)
Compatible Phones: 100~280g (Weight), 11mm (Thickness), 58mm~89mm (Width)
Rotation Range: Pan 320°, Roll 320°, Tilt 270°
Battery: 18650 Li-on; 2000mAh; 3.7V
Operating Time (hrs): 8; Charging Time (hrs): 2
APP Functions: Moment Mode; Auto-inception Mode; Motion Timelapse; Real-time Beauty Mode; Camera Setting; Personal Specs. Setting; Auto-Calibration; Online Firmware Upgrade
Working Modes: Pan& Tilt Follow; Auto-inception Mode; Sport Mode; POV All Follow Mode; All Lock Mode
Wireless: Bluetooth 3.0 + Bluetooth 4.0
App: Hohem Pro
Supported Systems: iOS 10.0 and later, Android 6.0 and later
1* Stabilizer
1* Tripod
1* Charge cable
1* Rope
1* Bag
The size is smaller than dji, so it's easier to carry with smaller space. The 3 axis stability is pretty good, it's close to dji. So if you're looking for that, this should be good enough.
This is a very portable gimbal. It is light and folds down very neatly.
They have all the videos in the app step by step how you can use it, cool features like Moment capture its perfect for beginner like me.