Description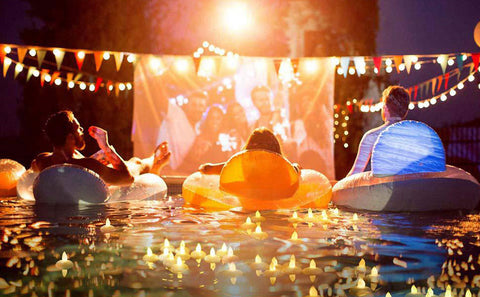 Put these warm white light-led tealight candles in your pool and vase or bowls filled with water to create a warm and romantic ambiance!

IDEA L FOR DECORATIONS

--- These artificial floating candles are perfect for lighting up vases, bowls
--- Swimming Pool, Bathroom, SPA, Aquarium, Party 
--- Put these floating tealights in a vase full of water or in any other body of water and they will float wonderfully.
--- Restaurants romantic dinner, Wedding party, Festival events

【Floating on water】: floating tealights are (D1.5" X H1.6") completely waterproof; put these warm white light led tealight candles in your pool and vase or bowls filled with water to create a warm and romantic ambiance; Package include 12/24 x floating tealights (batteries installed)

【With 0.35oz/10g dried rose petals 】: choose the dry rose petals full of color, you can use it with a floating lamp, very beautiful, build a romantic atmosphere

【Energy saving and convenient operation 】: waterproof flameless tea lights are powered by cr2032 batteries; fun floating candles that work through the conduction of the water! As soon as they touch the water they come on and go off when they are taken out; please make sure that the bottoms are all tightened before use

【Safer in any setting】: our led flickering tealights can be used without having to worry of flame, absolutely no fire hazards or burning risks, No hot and dirty wax to deal with; safe for families with pet(s) or young children (ren)

【Variety of usage】: floating tealight candles are suitable for decorating various events, creating a romantic and relaxing ambiance; perfect addition for both indoor and outdoor occasions, eg; in spa, bathroom, restaurants, wedding, party, and festival decorations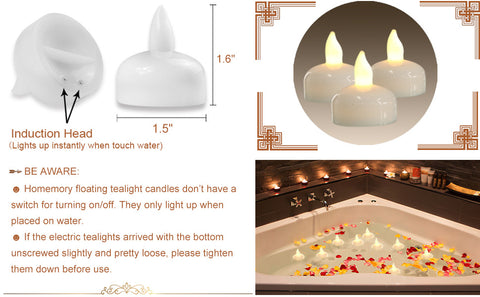 Specification: 
Material: plastic.

Battery: 12/24x CR2032 battery (included and installed)

Size: 1.5"(3.8cm)D x 1.6"(4cm)H

Light Color: Warm White.

Battery Life: 100Hours
Package Include:
12/24 x floating tealights
Payment & Security
🔔Tip: In order to improve the shopping experience. You can click on the price to switch the currency to your familiar local currency. But according to credit card and PayPal policies, The amount at checkout will be displayed in U.S. dollars at the latest exchange rate. Don't worry, the amount is the same.
Love them and dont have to worry bout a fire! you get plenty of them also
No need to do anything to them. Take them out of the box and place them on water, they work perfectly
Beautiful and worth the money! Exceeded my expectations!