Description
No matter you are a hairstylist, a selfie lover or a beauty blogger, Ring light will come in handy if you are looking for something to help with the lighting for pictures or videos. Life is so much easier not having to struggle to find the perfect lighting.
The ring light has 3 color temperature modes (white light, natural light, warm light), and has 10 levels of brightness adjustment. It can meet all your needs in different situations. It is the best helper for makeup, streaming, photography lighting, smartphone selfie, TikTok/YouTube video recording, etc.

Ring light works with most devices that support USB port, like laptop, PC, power bank, USB charger, AC adapter, and etc. The ring light is easy to disassemble, Lightweight and small space, and easy to carry. Whether you're traveling long or short, you can easily carry it. So it can be easily used anywhere.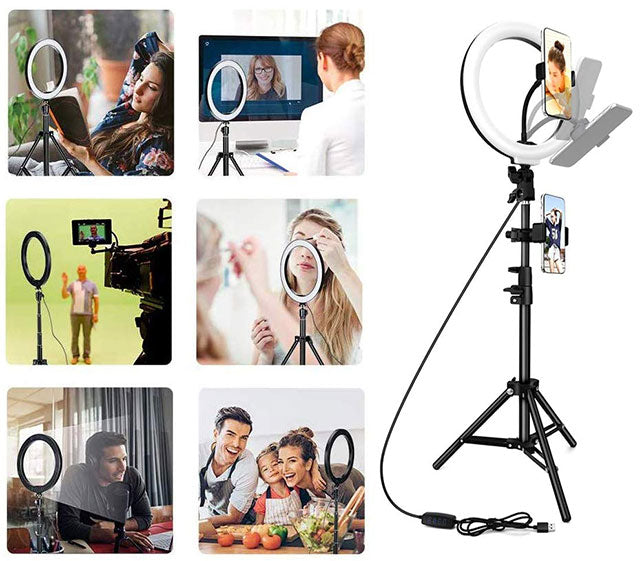 Dimmable ring light kit creates the almost perfect shadowless fill lighting around your face giving it a halo effect perfect for makeup artists or video bloggers giving a near flawless look, while the long-lasting LED bulbs (50,000 hrs+) are cool to the touch so you can keep your cool under the bright lights, with no annoying humming or flickering common with fluorescent bulbs. 
If you would like to purchase the 18-inch Professional LED Fill Light Kit, please click on the image below to purchase it.

Product Parameter
Light source: 120pcs LED beads
Outer Diameter: 10"/26cm
Color temperature: 3000K~6000K
Lighting color: white/warm white/yellow
Adjustable lightness: 10 levels
Support phone width: 2.2~3.4"
Weight: about 550g
Lamp power: 12W
Power: USB safe input, 5V DC voltage
CRI (Color Rendering Index): >90
Package Contents
1 x 10-inch Professional Ring Light
1 x Retractable Tripod (Optional)
1 x 1/4 Thread Ball-Head(Attached to 160cm/200cm tripod)
1 x Hose Phone Holder
1 x Manual
Payment & Security
🔔Tip: In order to improve the shopping experience. You can click on the price to switch the currency to your familiar local currency. But according to credit card and PayPal policies, The amount at checkout will be displayed in U.S. dollars at the latest exchange rate. Don't worry, the amount is the same.
I love the different light modes and the brightness levels- Means I don't get blinded everytime I turn it on, lights up my face really well. Great delivery time too
Love this ring light. The option of different warmth of colors and the brightness levels really help get the perfect light for whatever area you're in.
Excellent came to me very quickly! I was very impressed!