Description
Working Wirelessly, Using everywhere
All-in-one Tripod with Ring light is powered by USB, which means you don't have to plug it into an outlet to work. Gimbal can rotate 360 ​​degrees, free your hands, and adjust the shooting angle via Bluetooth remote control. The ability to use the ring light connected to a computer or external battery pack allows you to take it on outdoor shoots very easily.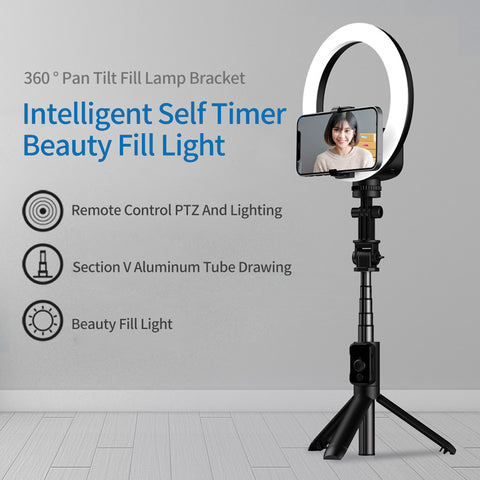 【Multi function live self-stick 】
Comes with tripod stand and wireless remote control and ring light, switch the selfie stick to a tripod easily for steady shots. Selfie Stick and tripod stand integrating together, combined with premium aluminum extendable stick, the selfie stick is extremely stable. Coupled with the design of the ring light, you can fill the light at any time when taking a selfie.

【Control camera and ring light anywhere】
No need to adjust the shooting angle, you can control the gimbal rotation by using the Bluetooth remote control. the detachable remote shutter allows you to take photos/videos freely from a distance (up to 30 feet / 10 meters). The self-timer ring lamp with bracket can provide sufficient light for your make-up, hot scene, FaceTime, YouTube / TikTok video, Facebook live and vlogging. It is suitable for various uses in different environments.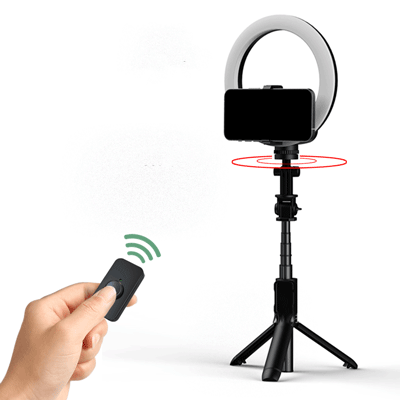 【Adjustable Light Mode & Brightness, Removable ring light】
The ring light for make-up is available in 3 different lighting modes: cold light, natural light, warm light and brightness meet different lighting needs, which is the perfect dimmable lighting, So you don't need to worry about taking pictures and live to broadcast. The ring light is detachable, allowing you to switch between the selfie stick and the live broadcast stand at will.

You can easily adjust the phone holder to find one angle you desire (horizontal, vertical, high-angle, low-angle and more). The phone holder is spring-loaded and extends up to 3.5" wide, it is compatible with almost ALL smartphones with or without a case.
5. [USB Charging] Our ring light is rechargeable and is suitable for laptops, PCs, mobile power supplies, USB chargers, AC adapters, etc.
Product Parameter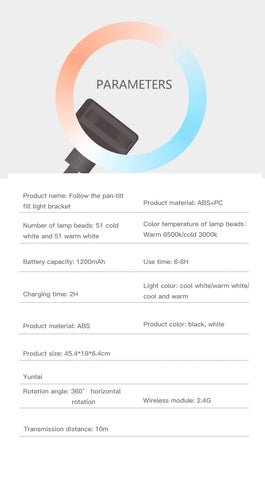 Selfie Ring Light*1

USB Power Cable*1

User Manual*1
It is great for doing selfies of course, videos with your phone or even some online meetings where you need a bit more light. Its easy to use and works great.
I was try it helped me take pictures ,it helped me brighten up dark coners and I had better photos ,I really recommend