Description
Yogogo Smartphone Stabilizer Video Rig with 3 Cold Shoe Mounts and come with Microphone, Light and Tripod. This is a great kit to stabilize your videos and photos, shooting professional-quality videos and photos. Shoot a mini-movie, record a make-up tutorial or capture precious memories without asking help from others.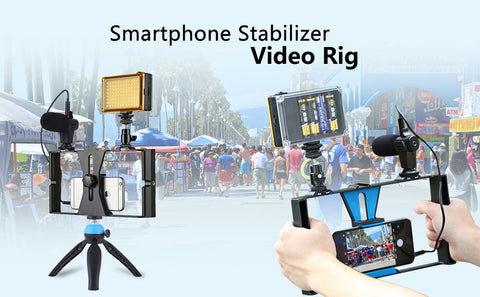 This is perfect for...
📸 Vloggers
📸 Photographers/Videographers
📸 Social Media Influencers
📸 Tik Tok
Our professional video kit features a boom microphone, 3 leg tripod, LED light, and bracket that is sure to take your video-making skills to the next level.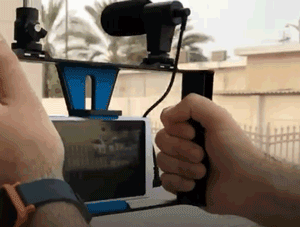 LOOK BETTER IN PHOTOS AND VIDEOS
You will now be able to control the lighting mode and adjust the brightness to your preference, proven to increase the quality of all your pictures and videos.
 The handles on both sides provide excellent grip for precise movements while shooting. Our special design turns your mobile device into a top-grade photography and video tool.
Our Professional Video Kit is compatible with most smartphones that have a 4 to 7-inch screen making it extremely practical to create quality content anywhere. Easily adjust the frame to fit your phone.
EASILY ATTACH MICROPHONE AND LED LIGHT:
With 2 standard shoe mounts and universal 1/4 inch mount thread, you can easily add accessories like an LED Light and mic for perfect shooting on the go.
The Prime Time Video Kit is great for people who do not want to invest in high-end cameras at the initial stage. Easily mount it with any tripod, slider, or dolly and shoot professional videos easily with your smartphone.
Product Parameter
Video Rig:
● Material: PC, ABS
● Socket Size: 1/4 inch
● Product Size: 25 * 13 * 4c m / 9.84 * 5.12 * 1.57in
● Weight: 164g / 5.78oz

Microphone:
● Frequency Range: 30Hz-15KHz
● Impedance: 200 ohm
● Sensitivity: -40dB+/-2dB (0dB=1V/Pa 1KHz)
● THD: <= 1%
● SPL: 120db
● S/N Ratio: 76dB (1KHz at 1Pa)
● Size: 13 * 2.2c m / 5.12 * 0.87in
● Weight: 42g / 1.48oz

Studio Light:
● Material: ABS
● Light Color: Temperature 3200-5600K
● Brightness: 860LM
● Lamp Beads: 96pcs
● Battery: 4 * AA batteries (Not Included)
● Size: 10.5 * 8.8 * 3.5c m / 4.13 * 3.46 * 1.38in
● Weight: 139g / 4.90oz

Tripod Holder:
● Material: ABS + Metal + Rubber
● Color: blue + black
● Screw: 1/4 inch
● Panoramic Rotation: 360°
● Diameter of Plate: Approx. 3.2c m / 1.26in
● Closed Height: Approx. 18c m / 7.09in
● Bearing Weight: Approx. 1kg
● Weight: Approx. 183g / 6.46oz

Cold Shoe Tripod Head:
● Material: Aluminum alloy, Rubber, Plastic
● Socket Size: 1/4 inch
● Product Size: 6 * 3.5 * 2.3c m / 2.36 * 1.38 * 0.91in
● Weight: 35g / 1.23oz

Package Weight:
● 836g / 1.84lb

Package Size:
● 26 * 16 * 12c m / 10.24 * 6.30 * 4.72in
Package Contents
● 1 x Microphone
● 1 x Studio Light
● 1 x Video Rig
● 1 x Tripod Holder
● 1 x Cold Shoe Tripod Head
Payment & Security
🔔Tip: In order to improve the shopping experience. You can click on the price to switch the currency to your familiar local currency. But according to credit card and PayPal policies, The amount at checkout will be displayed in U.S. dollars at the latest exchange rate. Don't worry, the amount is the same.
This was a great gadget for my daughter. She loves making videos and this was a very useful tool for her.
LOVE THIS THING! Has helped me shoot video and pics so much better. The plastic screw on to hold the phone could be stronger but it's a fantastic product for the price.