Description
DESIGNED FOR VIDEO-MARKETING
Feel the freedom not to depend on third parties!

Record at your own pace company videos, Marketing videos, product videos, SEO videos, etc.
Transform your smartphone into a professional, lightweight, and mobile teleprompter. With easy-to-read text displayed on a quality beam splitter glass screen, your video productions will always be professional.
Premium HD Beamsplitter:
Its special beamsplitter glass offers extraordinary reflection performance even in situations with high luminosity. Includes adjustable opaque hood that enhances brightness for a perfect reading. A specially created glass that allows you to record taking advantage of all the light in the scene, with a perfect reflection.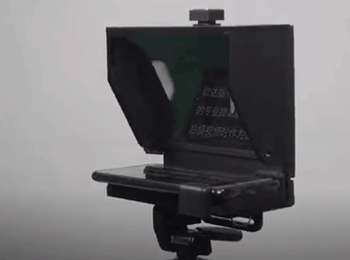 Sturdy Construction:
Made with aluminum, lightweight, and portable, it can be used with pro cameras or with your phone safe.
Wireless Solution:
The Teleprompter comes with a Bluetooth Remote so you can pause, play, and adjust speed remotely.
Wide Compatibility:
Compatible with professional video tripods and supports a wide range of cameras: DSLR/HDVCAM/XDCAM/NXCAMetc.It can be attached to virtually any tripod. It has a standard female screw in its base. Its base is very stable.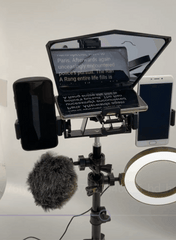 Wide Usage:
Suitable for instructors, business professionals, journalists, and YouTube creating video content. Interview shooting/Live Teleprompter/Mobile Live Interview/News teaching live etc.
Feature
This Teleprompter Set Support Camera and Smartphone.

 It Includes 4 Types Shading Patel for Smartphone. Prompting use for mobile phones under 7 inches.

 It Uses the Shading Hood for the Camera, Which is More Harmless for your Camera.

 The Metal Platform Make it More Stable.

The Teleprompter Main Boday Reserve Hot Shoe and Smartphone Mount to Install Microphone and Ring Light.

If you need to purchase a 12'' tablet teleprompter, please click on the image below.
https://www.yo-gogo.com/products/12teleprompter
Product Parameter
● Material: Plastic + Optical glass
● Color: Black
● Suitable Distance: Within 1.5M
● Remote Control Battery: 2 x AAA battery (not included)
● Size: Approx. 180*165*85mm/7.3*6.1*3.3in
● Weight: Approx. 390g
Package Contents
● 1 x Teleprompter body
● 4 x Shading patel
● 1 x Shading Hood
● 1 x Metal Platform
● 1 x Camera mount
● 1 x Remote control
● 1 x Cleaning cloth

Payment & Security
The website has passed the Credit Card and PayPal secure payment certification.
If you write out your scripts in the way that you speak (speed, not "too" perfect English etc) and then use the teleprompter, your videos will look and sound that much more professional.
My son wants to become a YouTuber so I bought this for him to play with. Fast Shipping.
It makes it MUCH easier to edit. Plus, it keeps the client comfortable.