Description
DESIGNED FOR VIDEO-MARKETING
Feel the freedom not to depend on third parties!

Record at your own pace company videos, Marketing videos, product videos, SEO videos, etc.
Transform your smartphone into a professional, lightweight, and mobile teleprompter. With easy-to-read text displayed on a quality beam splitter glass screen, your video productions will always be professional.
【Premium HD Beamsplitter】:
Its special beamsplitter glass offers extraordinary reflection performance even in situations with high luminosity. Includes adjustable opaque hood that enhances brightness for a perfect reading. A specially created glass that allows you to record taking advantage of all the light in the scene, with a perfect reflection.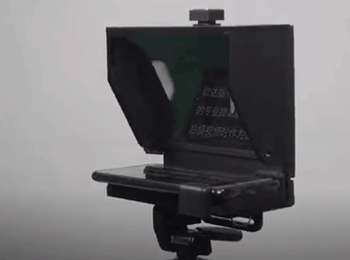 【Clear Reflection Effect】:
The three-point one-line design and principle of light reflection make the font reflection clear and easy to read, allowing you to look directly into the camera while reading off the screen. Besides, equipped with three different small backplanes and a DSLR shading plate, so that you can reduce light leakage during recording and improve the efficiency of recording work.

【Cold Shoe Mount & 1/4 Screw Hole】:
The cold shoe mounts on the top of the teleprompter for adding a flashlight microphone, video light,ring light or other optional accessories. 1/4 screw hole at the bottom can be easily attached to a standard tripod.
【Easy to Operate】:
You can control the teleprompter App document content, pause, play, play speed, and page-turning through the Remote Control. The remote control can also control other teleprompter App. According to the shooting needs, you can switch the phone bracket position freely, and adjust the horizontal and vertical shooting.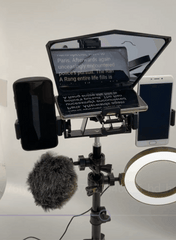 【Wide Usage】:
Support IOS and Android App. This App supports a document that can enter 50,000 characters, and there is no limit to the number of documents. You can adjust the font size and color, control the playback speed, and background color.
Suitable for instructors, business professionals, journalists, and YouTube creating video content. Interview shooting/Live Teleprompter/Mobile Live Interview/News teaching live etc.
Feature
The shooting device can be a smartphone, or DSLR cameras (cameras' lens within 82mm, not support shooting with wide-angle).
The mobile phone holder of the teleprompter support size is between 8-11cm/3.14-4.33inches wide.
Teleprompter with reflective mirror: High light transmittance, reducing the influence for the shooting. Single-sided high reflective mirror, making the prompting more clear.
You can control the teleprompter App document content, pause, play, play speed, and page-turning through Remote Control. The remote control can also control other teleprompter App.
The camera and smartphone holder has a smooth coating to prevent scratches.
The plastic/metal structure is sturdy.

The Teleprompter Main Boday Reserve Hot Shoe and Smartphone Mount to Install Microphone and Ring Light.

If you need to purchase a 12'' tablet teleprompter, please click on the image below.
https://www.yo-gogo.com/products/12teleprompter
● Material: Plastic + Optical glass
● Color: Black
● Suitable Distance: Within 1.5M
● Remote Control Battery: 2 x AAA battery (not included)
● Size: Approx. 180*165*85mm/7.3*6.1*3.3in
● Weight: Approx. 390g
● 1 x Teleprompter body
● 4 x Shading patel
● 1 x Shading Hood
● 1 x Metal Platform
● 1 x Camera mount
● 1 x Remote control
● 1 x Cleaning cloth

Great product
Great product exactly as advertised. Works well with text display app, no problems at all. Found an added bonus was the multiple backing cards to suit different phones and the larger bag type insert for a larger camera. Very versatile.
Fast Shipping! So HAPPY to purchase a tool that works out of the box and truly professional / commercial quality. My camera is a little short, but the email address provided, responded in less than an hour. RESOLVED.
I don't know why I didn't buy one of these earlier... I guess I thought teleprompters were for professional studios. I guess now I'm a professional studio!
I have never used a teleprompter before. I have found that it is easy to setup and use.